The Royal Clarence Hotel was built and established in 1770 having been built by William Praed (an Exeter Banker) in 1769 on the site of Sir Walter Raliegh's family town house.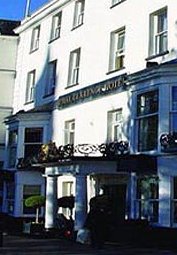 The main part of the hotel was built as assembly rooms with the right hand part next to Martin's Lane being Praed's Bank (Exeter's first Bank, the Exeter Bank). The first landlord was a frenchman (Pierre Berlon) hence the name hotel from the french 'hote'. This was the first hotel in England and used the be referred to simply as The Hotel, and later The Cadogen Hotel.
Prior to that the buildings were known as the Assembly Rooms. The Royal Clarence Hotel got its present name from the Dutches of Clarence (later Queen Adelaide, wife of William IV) who stayed on 2 occasions. Nelson received the freedom of the City here after the Battle of the Nile. A sword presented to him can now be seen in the Gallery of the Guildhall.
In 1820 and 1821 the Company of Weavers, Fullers and Shearmen held dinners here.
The bank became Dellars Cafe in 1905 and in 1916 became the part of the hotel.
See the further listings for the Zodiac Bar, Bishops Bar, Michael Caines and the Champagne Bar..
White's Devon Directory (1850) lists the Hotel as the Royal Clarence Family Hotel with Sarah Street as resident.
Stuart Callon Copyright ©2002