The Wellhouse Tavern officially opened in August 1984, two premises, numbers 16 and 17 Cathedral Yard having been acquired by the Royal Clarence Hotel next door.

In 1970 Kelly lists R. B Taylor & Son (estate agents) at No.16 and Robert Veitch & Son (seed merchants) next door at No.17, however these two buildings do have an extensive history as either private residences or shops or both. The basement / cellars are from a much earlier period than the two buildings themselves.

During Norman times a Hall was situated on this site, this was removed in C15th when it was replaced with a tennement. The C17th saw the addition of the top three floors.

The schematic below shows how the public area has ceen converted to one large room, keeping an original C15th fireplace and replacing the supporting walls with a Steel RSJ supported by a steel pillar in the bar area.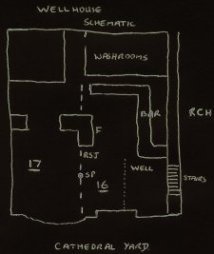 No. 16 Cathedral Yard is on the right. Through a false wall on the RHS of this building there are some stairs which lead you down to a basement area which is alot smaller than the area of No. 16 seen above ground level.
This area is the ground floor of the Norman Hall complete with well in the corner.
This basement area also houses the skeleton, a victim of Black Death. The remains are in fact those of a tall middle aged man (5ft 9 ins) with the pelvic bone and arm bones of a woman dating from the same period.
Above the case in which the two are laid is the legend, "Birth is the first step unto death".
Stuart Callon Copyright ©2004