The Horse and Groom used to stand at 57 and 58 Longbrook Street, until WW2.
Edwin Chenneour was resident in 1895 (PO) with Besley listing the same resident through to 1914. Until 1886 the building(s) consisted of an inn, stable and smithing yard. The picture below shows the pub before it was demolished in the early 1960's. Picture courtesy of the Express and Echo.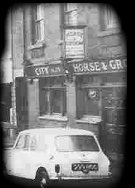 The building was demolished in April 1966 and a new pub opened to replace this famous old pub on the same site. It was briefly called The Dunkirk before being re-named The Horse and Groom.
In the eighties it became the Threpenny Bit because of it's strange multi-agonal shape, before becoming Strikers Sports Bar until 2005.
The pub is currently known as The King Billy.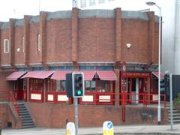 Pring notes that up until 1850 there was an Inn in Longbrook Street called the Silent Woman which had a swinging board depicting a headless woman thought to be St Sidwell. It was later given a new sign depicting a Horse and Groom.
To confuse the matter, according to Trewman, T Spreat was resident in the Horse and Groom in St Sidwells in 1816.
Stuart Callon Copyright ©2001-2005