The Old Fire House was indeed a Firehouse in 1876 with a Pub next door (Black Horse Tap) to the left. The Exeter City Fire Brigade moved to Danes Castle in 1931.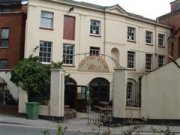 The original building was constructed in 1833, a two storey red brick engine house with a three storey Georgian style range behind. It housed the West of England Insurance Company Fire Brigade from 1834 to 1888 (building partly demolished), finally vacated by the City Of Exeter Fire Brigade in 1931.
The old lamp stands that stood outside the Fire-house now reside outside the Devon Fire Services station at Danes Castle.
The fire station was auctioned for £1500.00 and later partly demolished at a cost of £2000.00. The premises were used as warehousing and industrial space until 1986, when the pub was opened.
Kelly (1939) shows the place to be Macpherson's Battery Service Station, a further listing in Besley's directory of 1947, shows 50, New North Road (Old Fire Station) to be N.F.S. Water Stores.
A later listing in Kelly (1970), shows Co-Operative Retail Services to be occupants.
Stuart Callon Copyright ©2002-2005