The South Western Hotel was originally the hotel built to serve the passenger traffic from the London and South Western Railway Co. The line was in place by 1860 with the original station entrance being just below Northernhay Park, easily accessed from this hotel.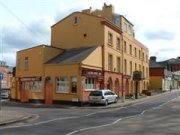 Queen Street Station (now Central Station) was constructed in 1933, moving the passenger terminus into Queen Street away from New North Road. It was probably around this time that the South Western Hotel became what we see today as the Locomotive Inn.
First listed in 1889 (Kelly) as th Locomotive Inn run by John James, however it appears on the O.S. map of 1876 as The South Western Hotel.
Stuart Callon Copyright ©2002