Chumleys No.1 only opened in 1998 so as such is not an old pub, however the building(s) do have a bit of history. These are 79-81 Queen Street, plus an adjoining building in Upper Paul Street.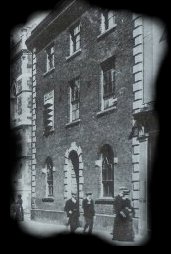 St Annes Well Brewery Offices

The picture above is from 1911 and shows 79 and 80 Queen Street, the offices of Geare and Mathew Solicitors (at 79 on the corner) and St Annes Well Brewery at 80. No 81 housed a Canadian Government Agency (besley 1916). The brewery offices are also listed by Besley as being in Upper Paul Street.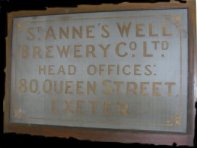 The screenprint shown above used to hang in the offices at No. 80.
The brewery closed in 1966. The buildings lay unused for a year or two and were then extensively re-fitted and renovated with the front end designed a little more in-keeping with other victorian buildings in Queen Street.
Like many of the buildings in Gandy Street and Queen Street, the basement featured a series of cellars which the brewery used for storage. These extend under Queen Street.
John Webber Sports Limited moved into these premises (Kelly 1970) at 79/81 Queen Street, the Upper Paul Street building having been fully incorporated into this address. John Webbers were taken over by De Paula Sports before Chumleys No.1 occupied the site in mid 1997.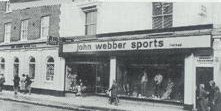 John Webber Sports
A glance at Chumleys No.1 today confirms the pub as an amalgam of four buildings. There are three entrances, the one on Upper Paul Street requiring steps to get to street level. See the picture below.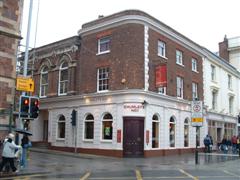 Chumleys No.1
The street was levelled in the C19th having previously sloped. This slope is the reason for the split levels within the pub combined with accomodating the cellar shops in Gandy Street.
The pub was extensively re-furbished in 2004 and very slightly modified in March 2007 when it was re-named The Pitcher and Piano, having been taken over by Marston's. Opening night was 16th March 2007.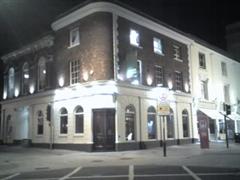 Pitcher and Piano
Gone are the sofas, in with some wooden benches, darker lighting. Otherwise very similar although pitchers now feature heavily on the menu. Unable to find any trace of a piano though. Licensee: Beth Evans.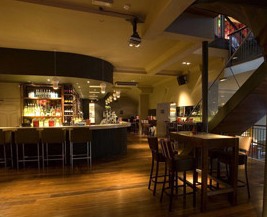 Pitcher and Piano interior
Stuart Callon Copyright ©2000,2005,2007