The City Hotel is listed by Kelly (1889) apparently run by a company, Gannielift and Russel, however by 1939, the hotel was privately run. A listing in the PO directory of 1895, describes the hotel as The City Commercial Hotel.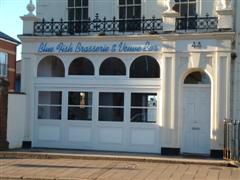 Today, the building at 44 and 45 Queen Street is seen as the Blue Fish Brasserie and Veuve Bar (2004), which took over from Bar Bomba which opened in these premises in 2002.
In 1947, the building housed Deller's Cafe after their premises in the High Street had been bombed. The United Friendly Insurance Company were next door at 46 Queen Street. However by 1970, they had moved to 44 and their offices had expanded to include two firms of solicitors.
Stuart Callon Copyright ©2005