Coolings originally opened as a wine bar and was in fact known as Coolings Wine Bar for some time. Opening in the 1970's in the former premises of Snow and Co. (wine merchants), the old wine cellars making up an extensive bar area below street level. The old building plans also show slate wine bins underneath the bakery and pavement in Queen Street.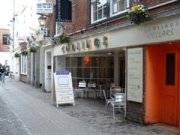 The wine merchants can be traced back in the directories as far as 1823 (P), where Granger and Sanders were also partners. the advert below is from the mid-1960's.

In 1992, the Cellar Bar was re-named and re-opened as The Host and Chalice after extensive renovations in 2004. The Cathedral authorities complained and the Cellar Bar was re-adopted. The cellar bar was non-smoking area way before the nationwide ban in July 2007.
Stuart Callon Copyright ©2000-2006