The Osborne Hotel is seen today as the Tower Inn and has existed from the turn of the C20th, first seen in Besley's directory of 1906 as a temperance hotel.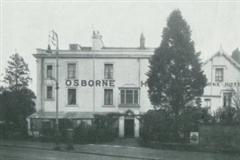 Sometime after 1939, the hotel was converted to offices and in 1947 was Osborne House, accomodating amongst others, the Devon Farmers Union, the MFU and Avon Insurance.
In 1996, the offices were back to pub premises when the Irish themed pub chain opened O'Neils in September 1996. Then came several name changes. 1998, Its a Scream, 1999, Fermats Number, 2003 Yes Bar, 2004, The Tower Inn.
The Yes Bar was Exeter's first lap dancing bar. The Tower Inn is still owned by O'Neils.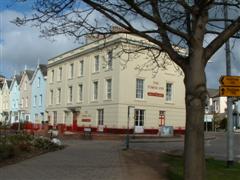 Stuart Callon Copyright ©2000-2005