The Queens Hotel is shown on the 1876 map and was still around in the 1960's. The bar was popular with those who used to visit the Civic Hall (entrance was directly opposite) at the end of Higher Market for dancing. The Queens Hotel building is now Cafe Rouge, but the basement of the Hotel is occupied by The Vaults (Queen's Vaults until around 2000) with it's entrance on the Gandy Street / Little Queen Street corner.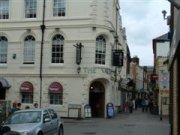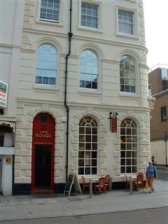 The bar from the hotel still exists at the Students Union Bar in Earl Richards Road!
The entrance to the hotel was oblique to the road.
The hotel was built in 1852, closing in 1978 and undergoing a 410,000 GBP conversion, into a cellar bar, Queens Vaults and Exeter's first Virgin Records and offices. The record store eventually became Cafe Rouge in the 1990's
Husseys hold details of a Country House Cottage (Whimple) sale here on 22 October 1943.
Barley wine sold in half pint glasses was a feature of this place in the sixties. Punters got rat-faced in here prior to going over the road to the Civic Hall for a dance and punch up.
Paul Collings was the original owner, his son had taken over from him at the Black Horse Inn (Longbrook St).
For more information on Paul Collings, visit Exeter Memories, a link is available on the local links page of this website.
Stuart Callon Copyright ©2002-2006