Norton's Hotel grew from William Norton's confectionary business operted from 32 Queen Street according to White (1878). By 1895, the building was operated as Norton's Hotel.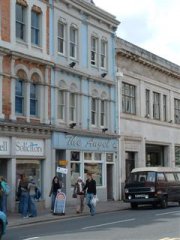 By 1895 (PO) the hotel had been re-named the Victoria Hotel and this is where the name changing ceased for many years until fairly recently.
In the late 1970's, it was the Victoria Inn. In 1985, the pub became Garbo's, 1989 The Pink Pelican , then Envi (until 2001) when it became as it is today, The Angel.
Stuart Callon Copyright ©2000-2006