The Boat House Inn, Port Royal
The Port Royal dates from Victorian times and is comprised of a number (2) of riverside cottages and an old warehouse. The cottages used to house workers from the Canal.
The pub is named after the Jamaican Port famous for piracy. See the Ancient Quayside and Canal section for more information.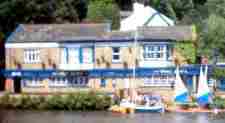 An old photograph of 1910 shows the place to be the HQ of the Exeter Rowing Club. The old boat-house now makes up the restaurant of the present Port Royal. The photo below (1954) shows this quite clearly. The boat-house was re-built in 1952 at a cost of 1600 GBP and was opened by Geoffrey Pring of the City Brewery on 6th June 1952.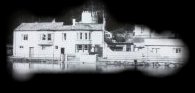 The Exeter Rowing Club vacated the club-house at the pub in 1981 and in 1982, the boathouse was converted into a function room.
A "for sale" notice in the EFP (13th January 1853) features a Boat House Inn, a name which the pub briefly adopted during the tenancy of George Webber. It seems that the inn had reverted back to being known as the Port Royal a couple of years later presumably after it was sold. Proof is given by Besley in his " West Of England Almanac", 1853 where he shows John Western at the Port Royal PH and G. Webber at the Boathouse PH, both with the same address of "Lime Kilns". Both men are also listed in other directories as tennants / owners at the Port Royal.
A deed of 1924 states that it "..was with brewhouse, cellar and other outbuildings, yard, boathouse, bagatelle room and premises thereto adjoining."
Newton (1968) mentions that in 1870 it was the venue for the Christmas party of the Trews Weir Mill employees and a soup kitchen was also opened here in 1870 for those not fortunate enough to have regular employment.
The pub was first listed by the historical directories in 1844 (Pigot) with Robert Ulger as resident and again in 1850 (White) with George Webber as resident.
Charles Edwards resident from the mid 1850's ran the pub for 60 odd years. Edwards died in December 1923 aged 93.
The pub was bought from the owner, Alfred Dorothy by the City Brewery in 1924.
Stuart Callon Copyright ©2002, 2004