The New Mount Radford Inn exists today as the Mount Radford Inn in Magdalen Road. Pigot (1844) lists Humphry Ley as resident at the New Mount Radford Inn, whereas previously the pub was known as The Mount Radford Arms(Exeter Flying Post 1836). It was the Mount Radford Inn by 1852 (Slater and the EFP 1871, 1885).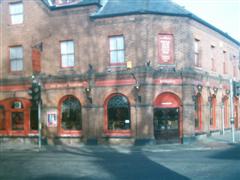 The original Inn was in exactly the same position with an early address of 15 Magdalen Road being posted by the directories. However there has also been some street re-numbering.
The present Mount Radford Inn also was once "Normans" a wine seller. The smaller bar at the back may well have comprised an Inn with todays version taking over the old wine cellar building.
JJ Norman and Ellery were still there in 1967 and 1970 (Kelly) but the inn appears to have gone only to return when JJ and Ellery vacated after 1970. The wine merchants appeared to arrive around 1889 (kelly) at No.71 Magdalen Road, but this does not mean that their only trade was that of wine.
You'll note an L.S Sutton listed by Kelly in 1934, possibly a landlady. By 1970, their premises incorporated 73-75 Magdalen Road. With Exeter's expansion during this period, there may well have been a bit more number juggling on behalf of the local authorites. The pub had returned by the 1980's.
A fire in 1983 caused so much damage that the pub was closed for 5 months, pub pub taking the opportunity to develop a Victorian poorly street theme in the rear bar area, the front coming to resemble a typical London pub with large bar, brighter lighting and mahogony furniture.
Stuart Callon Copyright ©2002-2005