The Globe Inn is shown in the O.S Map of 1876 and listed by White (1850). Thomas Dare was resident. The earlier listings give an adress in Albert Street.

The directory listings are unexceptional but for the fact that in 1859 Trewman lists a Nicholas Lamacraft as resident. His occupation that of publican and maltster. The globe had its own brewery!

In 1873, Kelly notes that Nicholas Lamacraft ran a brewery in Clifton Road.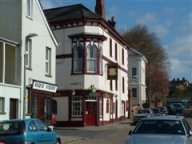 Pring notes that the pub had a malthouse and garage adjoining in 1833.
In 1854, the pub was mentioned in a will of Mr J.L. Moxon according to the Exeter Flying Post 18th May 1854.
Stuart Callon Copyright ©2002, 2004