The Duke Of York was first recorded in 1816 but prior to that had been known as The Dukes Head.

J Baker (1884-1890) was resident when the pub issued checks.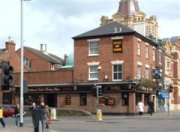 A century and a half ago, York Road only went as far as Well Lane (now seen as Well Street). From this point only a footpath led down to the Longbrook. The road in fact was named after the pub.
Between 1853 and 1855 St Sidwells School was built on the corner of Well Street and York Road and at this point York Road was extended to Hill's Court.
The original part of the road was lowered for horse drawn traffic and this is why the Duke of York is way above road level on it's York Road side.
Stuart Callon Copyright ©2002