The Temeraire is now the Horse and Dray at the bottom of Blackboy Road. From around 1895 to 1921, it was known as the George & Dragon Brewery, one of eleven Exeter breweries around at the time and was run by C.H. Stevenson and Sons.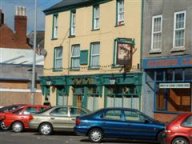 From 1785 to 1799 it was the Royal Oak. Prior to 1831 on Whit Monday, various races were held, with the finishing line at the Temeraire. The starting point for these races was The Victory Inn which used to stand in Sidwell Street.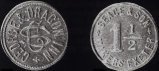 Checks or tokens were issued by C.H Stevenson in order to boost trade, example above. They were manufactured by Seague and Son., Exeter.
Pring states that it was modernised in 1920 and again in 1939.
Stuart Callon Copyright ©2002, 2005