The Greyhound was constructed after the WW2 on the site of the old Poltimore Inn and named after that lost in Paris Street during WW2.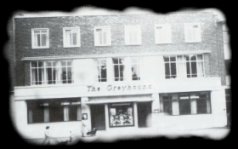 Listed by Kelly (1970) as The Greyhound Inn, 161 Sidwell St, opening 21st April 1958.
The Express and Echo was also re-located next door but it wasn't until 1982 that the pub name changed to the Printers Pie after an expensive re-fit. It was known as Pi in 2002, re-opening as the Amber Rooms in 2003.
In fact the "Pi" was the mathematical symbol (the 3.142 bit) and not the actual name. A bit like the artist formerley known as Prince.
There is an entry for the Paris Street Greyhound on the Eastgate page.
Click here to access this page.
Stuart Callon Copyright ©2002, 2003