The Bowling Green was until early 1987 known as The Ropemakers Arms.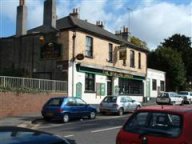 The directories show that from 1850 (White and Trewman) James Hill was a "retailer of beer" with a primary occupation of "ropemaker", at 29 Blackboy Road.
By 1895, 29 Blackboy Road had become the Ropemakers Arms, a pub, rather than a beerhouse frequented by ropemakers. It was always customary for individuals of the same trade to drink together. Their "rope-walk" was an in alleyway running close to the pub (Elmside).
By 1906, The Ropemakers Arms encompassed two buildings, 29 and 30 Blackboy Road, and had also changed hands or at least residents. The Hill family who had run the business for over 100 years were gone and W.T Chambers was resident.
The pub is currently named after the Bowling green opposite in Belmont Park, the home of Belmont Bowling Club.
Stuart Callon Copyright ©2002-2004