The upper buildings of St Thomas Railway Station were demolished in the 70's. Platform 1, used occuppy the ground level offices of Brunel's South Devon Railway in the mid 1990's.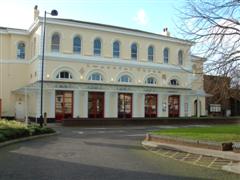 Fergies restaurant and bar were the previous inhabitants of this building in the 1980's, (opened 1985) later known as The Station.
Platform 1 closed around 1998 and the building lay dormant for a number of years.
The building currently houses The Imperial China Restaurant and Bar (November 2004).
Stuart Callon Copyright ©2004