The Kings Arms lost its forecourt in a road widening scheme of early 1960. The upper part of Cowick Street was originally a fairly narrow street and the pub stood back from the road as can be seen in the first picture. Later road widening for the Exe Bridge scheme saw the demolition of adjacent buildings but because the pub stood back from the road, it survived!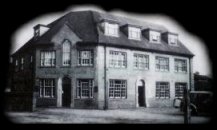 The pub looks to be a turn of the C20th re-build, the picture above is from 1936. A St Thomas Tithe map dated 1839 shows the pub fronting right onto Cowick Street, with a yard behind - plot 48.
Below is a picture showing the road widening scheme during the floods of 1960.
On 4th june 1840, a wrestling match was held on the premises according to the Exeter Flying Post.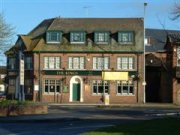 It was renamed The Kings in 1996 after extensive refurbishment.
Stuart Callon Copyright ©2002