The Showman was previously The Roadhouse, The Prince Albert, The Lamb and Lion.

The Showman
The Lamb and Lion got a mention in the Exeter Flying Post (6/3/1794) when a Mr Westlake became owner of the inn. The Flying post features the pub again (28/11/1805) when some Malt was stolen, the pub obviously brewing it's own ale.
This all changed in 1844 when it was leased by St Annes Well Brewery and known as the Lamb and Lion. The brewery insisted on a name change and the Prince Albert was born.
The Tithe map of 1839 shows the inn to consist of three plots, 173, 172, 171, a Public House and Skittle Alley, the owner, an Ambrose westlake.
In 1928 a conveyance states;
..together with the brewhouse, cellars, skittle alley and premises thereto belonging.
At this time the pub became the property of the City Brewery, the building being purchased from the then owner, John Frost Dodd.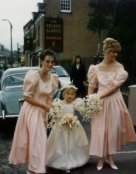 Prince Albert, June 1990
The skittle alley was rebuilt in 1955 and the bar areas modernised in 1961.
The building(s) are comprised of three cottages, two fronting onto Cowick Street and one fronting onto the lane adjacent to the church. It is very likely that the pub started in only one of these buildings, incorporating the other two as they became available and business expanded. However, the 1839 Tithe map does show that the pub occupied three plots back then.
The open-air victorian trough bogs out the back were a strange feature for many years unil the pub became The Showman. The cold killed all known germs. Nowadays outback is a beer garden and the victorian bogs have been replaced by a 21st century variety.
From the early 1990s until 2005 it was run and maintained by a local biking organisation, and was known as The Roadhouse. It became The Showman in October 2005 when the pub changed hands.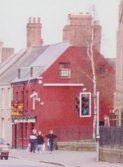 The Roadhouse
The Roadhouse was very dark with black painted walls possibly much as you might have expected, with loud rock music on the juke box. It was a friendly pub though. The bar was in a central position towards the front of the pub, much the same as when the pub was known as the Prince Albert. The Showman however has the bar located along one wall towards the rear of the pub which makes for alot more room.
The new and currrent owner, Paul Andrew, formerly of the Village Inn in Exwick was very vocal against the smoking ban which came into effect in July 2007. A preposterous piece of legislation. Had the government not heard of extractor fans?
The theme is "Showman", as in fairground. The bar is decorated with carousels and fairground memorabilia. There is even a Waltzer seat to sit in.
Stuart Callon Copyright ©2002-2007