The Royal Oak (Okehampton Street) survives today.
During the floods of 1960 a full barrel of beer was washed down the Exe from this pub on 27th October. It was recovered by HMS Highburton on December 8th, seven miles east of Portland. The barrel was returned to the brewery who showed their appreciation by entertaining the crew. This beer barrel now rests in the public bar as a seat with a brass plate commemorating the incident.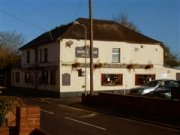 Does appear on the 1876 O.S Map but does not appear in White's directory of 1850 however by 1856, there is a listing.
So why is the place called the Royal Oak? Not an Oak tree in sight! In the 17th century the river bank was lined with a row of enormous oak trees.
The picture below was scanned from an Express & Echo, 28th October 1960 and was taken in the pub, the day after the famous 1960 flooding of the St Thomas and Exwick areas of Exeter. The caption below reads,
"MOPPING UP at the Royal Oak, Okehampton Street, Exeter after flood water had swept through the hotel to a depth of about four feet".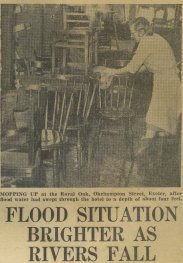 Newspaper found while doing a loft clearance for an old friend. Amazing what you can find in older peoples attics!

Stuart Callon Copyright ©2002-2004,2006