The Village Inn was known as The Lamb (1850-1985) and prior to that, possibly The John Bull Inn.

An Inn was first recorded here in the 15th century and was part of the old Exwick manor-house. The John Bull was possibly part of the Old Manor House which no longer exists.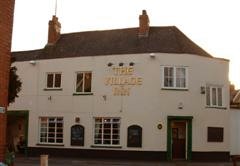 Judging by the look of the building, it was once an old coaching house. The Ostlers room and arch to the courtyard are still in place.
Stuart Callon Copyright ©2002-2004