The Star Stores is seen on the O.S. Map of 1876 and according to Kelly (1889), this inn stood at 154A Fore Street.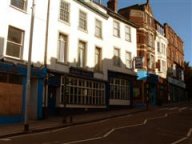 The inn originally only inhabited 154A Fore St, later expanding into 154 (left).
The building became the Star Stores Inn in 1873 having previously been a shop known as Medical and Chemical Hall (1838).
Between 1912 and 1916, it was known as the Wine and Spirit Vaults if Besley (1912, 1915) are to be believed. 154A Fore Street is not specified.
The pub is listed by Besley (1947), as the Star Stores, L.A. Grose resident and again as the Star Stores in 1960 (K). In 1970, Kelly lists the place as the Mint Tavern.
In June 1974, the inn closed and the premises sold in 1976, re-opening later that year again as the Mint Tavern.
I am guessing that this was when the pub expanded down the hill to incorporate 154 Fore Street as well.
This pub was originally on two levels with stairs to the right as you walked in. It had two bar areas, one up top and one down the bottom. The upper bar area was closed in 1985 and the room enlarged. Later the lower bar was moved from the centre of the pub to the wall it runs along nowadays.
The pub featured soggy red carpets and dark wood and was pretty good initially, however by 2000 had become very dated.
Underwent a major facelift in mid-2004. Now alot more spacious, with the loss of the two levels and extended to the rear. The bogs are now housed in a nightclub that used to exist in the basement.
When the pub had two levels, there was a side entrance into Friernhay Street. On 10th March 1837, the EFP printed a "to let" notice for the Elephant and Castle Inn (Friernhay Street). There was a further "for sale" notice on 17th October 1866. My guess is that this was the Elephant and Castle Inn which later became one pub. This would also account for the split level of many years.
Stuart Callon Copyright ©2005