The photo shows the brewery beside the river but there were also bottling plants in Edmund Street and Frog Street which were automated in 1937.
Whitbread bought Norman & Pring Ltd. and all their tied houses which amounted to 168 in 1967 immediately combining it with another business, Starkey, Knight & Ford of Tiverton. The City Brewery site was closed only for the building to be badly damaged by fire later that year. The brewery was eventually demolished in 1969/70 for the Western Way road development. The brewery was actually integrated into the structure of the medeival bridge, some of its cellars being the arches of the bridge.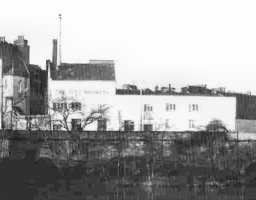 Next up is West Gate before we head off to the. Turn up Western Way and cross the road. On your left you'll see St Mary Steps Church with its fascinating church tower clock, a number of Tudor buildings and the entrance to Stepcote Hill. By now you'll be getting thirsty so I'll hurry. As the clock strikes the hour, the foreman in the middle nods his head and the two creeps beside him sound quarter hours with long hammers at their feet. Matthew Miller's mill was close by. He was extremely punctual and after his death the clock was erected as a memorial to him in 1619.