Malt
The Harvester Malthouse, (formerley the Malthouse) changed hands in 2007 and the improvement in service and quality is phenominal.
The malting of barley took place here from 1791 until September 1949.
The building first appeared in 1789 as the New Brewery. The curved north east wall reflects the shape of the original tenement plot on which it was built. The brewery was expanded to house a malthouse in 1791 and in 1876 two malting kilns were added one of which was replaced in 1900 when three larger malting kilns were added. The malt will have originally been supplied to the many breweries of Exeter, however it eventually only supplied the City Brewery who purchased this brewery in 1833 and which stopped brewing in 1956. Brewing on this site had ceased by 1850, the building better geared to malt production than that of beer.
The business was owned by Hore & Sons (1823) and Hore & Salter (1830). Salter went on to become a partner in City Brewery when they bought it in 1833.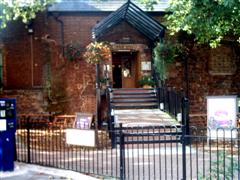 Another brewery close by was, The Wellpark Brewery in Willeys Avenue, now converted to flats. This brewery ceased brewing after the WW2.
Once you've finished sup up and head towards the Piazza Terracina (opened 6th July 1996), back down river.
Look to the City skyline on your left, over the river, you'll see 'New Theatre', built in 1913 and was at one time the Holy Trinity Church Hall, before it closed in 1969, the building now houses the Cygnet Theatre.