Where the road bends is the Bishop's Palace Gatehouse. When the Cathedral was walled in 1286, a wooden gatehouse was constructed close to where the street lamp now stands to shut off the roadway, there is a marker post on the northern side of street. This cathedral gate was removed in 1812. This was one of the main access ways to Cathedral Close for carriages and carts.

On the opposite side of the street is a relatively new addition (1998) to the pub scene in Exeter. The Firestone was Brazz until May 2006 and is a continental bar and restaurant (upstairs) for pseudo-sophisticates with more money than sense. The building was formerly Mitchel and Son of Exeter Ltd., a builders merchant and wholesale ironmongers (Besley 1947), but had lain dormant for years.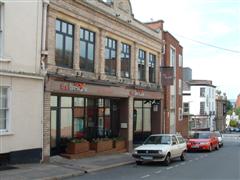 Have a drink of beer in here and head outside.
Sir Walter Raliegh's parents lived in a house within Palace Gate in their old age.