Kingston took over the role as commercial capital of jamaica and remains the capital today. Port royal was and is situated at the western end of the Palisades sand spit (Dawlish Warren is a sand spit) that protected Kingston Harbour. The Harbour was originally claimed by the spanish, with England aquiring it in 1655.

Pirates were welcomed to the City because the English lacked the manpower to effectively defend the City. By the 1660's most of the City's resident were pirates, cut-throats and prostitutes, Charles Lesley wrote,

"Wine and women drained their wealth to such a degree that some of them (the pirates) were reduced to beggary. They have been known to spend 2 or 3,000 pieces of eight in one night; and one gave a strumpet 500 to see her naked. They used to buy a pipe of wine, place it in the street and oblige everyone that passed to drink."

Following Henry Morgan's appointment as govenor, Jamaica passed anti-piracy laws and instead of being a safe haven for pirates, pirates were executed in Jamaica.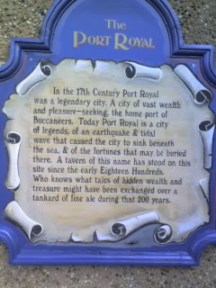 Pub Wall Plaque

After the earthquake in 1692, parts of the town were rebuilt but the town never reached the heights (or depths) of it's predecessor. The new town of Port Royal became a principal station for British naval forces in the carribean.

The town of Port Royal is featured in the Pirates of the Carribean films and there is also a honduran beer named, "Port Royal". Sup up before heading outside to take a look at Trews Weir, the suspension bridge and old mill.